World's deepest diving pool in Mszczonow, Poland
The Deepspot Complex just opened on Saturday, featuring the world's deepest diving pool, man-made underwater caves, and Mayan-like ruins.
At an impressive 45.5-meter (150-foot) depth, the pool carries 20 times the amount of water than the average 25-meter pool. Located in Mszczonow town near Warsaw, the Deepspot Complex has a small wreck for scuba or freedivers to adventure. 5,000 cubic meters of concrete was invested over the past 5 years to build the pool - at a whopping 8.9 million euros. In spite of the Covid-19 restrictions, the establishment will remain open as a training center offering courses.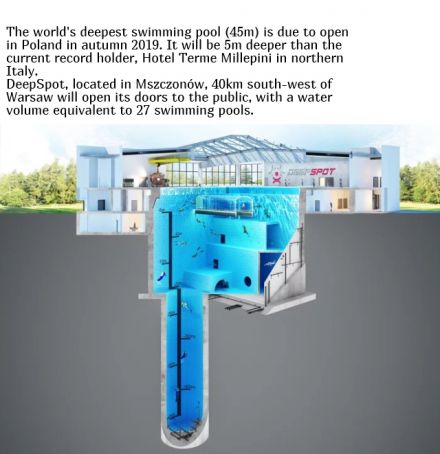 Also read: Andrzej Wróblewski: Recto / Verso
Plans are underway to construct a five-meter deep hotel with rooms where guests get to watch divers go about their adventure. The new pool overtakes the current Guinness world record set by the Montegrotto Terme in Italy - 42 meters deep. Named Y-40 Deep Joy, it is the star attraction at the Hotel Terme Millepini.
The Blue Abyss pool in Bedfordshire, England is expected to open in 2021 on the Royal Air Force Henlow station grounds at an area reserved for a science and technology park. The multi-level facility has the world's deepest and largest pool - accomodating 11 million gallons of water (an equivalent of 16 Olympic-sized swimming pools) at an impressive depth of 50 meters.
Also read: Side by Side: Poland - Germany
Despite the lack of fish or coral, the idea behind the Deepspot Complex pool is to establish itself as an excellent training spot for divers looking for safe open water. In addition, the army and fire brigade will find it suitable for training and testing their equipment.
General Info
Address
Mszczonow, Poland
View on Map
World's deepest diving pool in Mszczonow, Poland
Mszczonow, Poland