The Guggenheim Museum in Bilbao presents Kandinsky
The Guggenheim Museum in Bilbao presents Kandinsky, a comprehensive exhibition of paintings and works on paper by Vasilij Kandinsky (Moscow 1866 - Neuilly-sur-Seine, France, 1944), mainly from the extraordinary funds of the Solomon R. Guggenheim Foundation in New York.
Sponsored by the Fundación BBVA, the exhibition presents the work and artistic evolution of one of the main innovators of early 20th century painting, a forerunner of abstraction and recognized theoretician of aesthetics. In his commitment to free painting from its ties with the "natural" world, Kandinsky discovers a new theme based exclusively on the "inner necessity" of the artist, a concern that will accompany him throughout his life.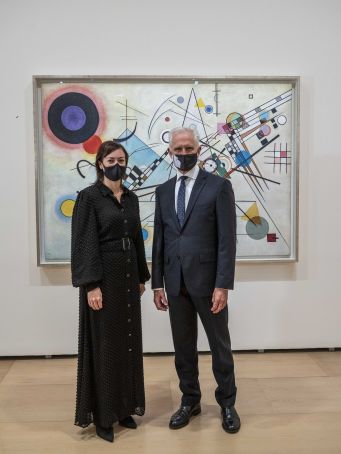 During the first decade and beginning of the second half of the twentieth century, while in Munich, Kandinsky began to explore the expressive possibilities of color and composition. However, he was forced to leave Germany suddenly because of the outbreak of World War I in 1914. The artist returned to his native Moscow, where his pictorial language began to reflect the utopian experiments of the Russian avant-garde, which gave great importance to geometric forms as a way of creating a universal aesthetic language. Later, Kandinsky is a member of the teaching staff of the German school of art and applied design Bauhaus, with whom he shares the conviction that art has the ability to transform people and society.
Once again forced to leave Germany when the Bauhaus closed under Nazi pressure in 1933, Kandinsky moved to the outskirts of Paris, where the influence of Surrealism and the natural sciences in his biomorphic iconography was appreciated.
Kandinsky is inextricably linked to the history of the Guggenheim Foundation, created in New York in 1937, more than any other artist. In 1929 the industrialist and founder of the museum, Solomon R. Guggenheim, began collecting the works of Kandinsky, a painter he met the following year at the Bauhaus in Dessau. The exhibition illustrates the complete evolution of this artist's career, divided into four geographical sections that retrace the key periods of his artistic development.
Ph: marcantonio bartelloni / Shutterstock.com
General Info
Address
Guggenheim Museum, Abandoibarra Etorbidea, Bilbao, Spain
View on Map
The Guggenheim Museum in Bilbao presents Kandinsky
Guggenheim Museum, Abandoibarra Etorbidea, Bilbao, Spain