Chocolate lovers rejoice… and hop on the fastest flight to Austria to try the world famous Sachertorte. Invented around 1832 by Chef Franz Sacher, it has become a staple dessert for the city of Vienna.
Tourists have flocked from every part of the world to try this century old hand crafted dish. Tasting an "authentic" Sachertorte is crucial while visiting Vienna, however, deciding which place is the home of the original dessert can be somewhat controversial. The dish has an interesting backstory that adds to its already established popularity making it a must while in the city.
Qualities seen in the original recipe date back to the 18th century, however the first real Sachertorte wasn't invented until 1832. Prince Wenzel Von Metternich asked his head Chef to come up with a specialized dessert to be presented to a few very important guests at the time. However, due to a recent illness the head Chef was unable to create anything leaving the duty of designing a dish up to his 16-year-old protege Franz Sacher.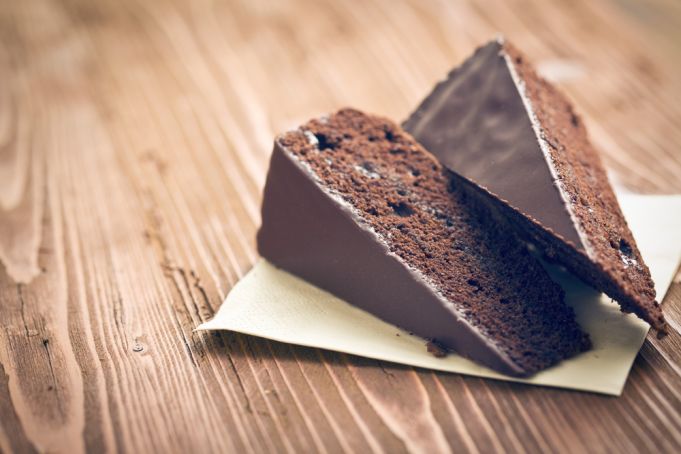 Sacher came up with a chocolate sponge cake topped with a thin layer of apricot jam and then coated with a dark chocolate icing around the top and ion the sides. The Sachertorte took off from there, becoming a highlight in Franz Sacher's career. Before Franz died, he left the recipe to his son Eduard Sacher who perfected the torte into what it is today.
At the time Eduard was working at Demel Bakery and Chocolatier while finishing off his culinary studies in Austria. This is technically where the Sachertorte was first served. However, in 1876 Eduard established Hotel Sacher where the dessert was also sold. Due to Eduard Sacher's involvement in both establishments, the two places separately claimed that they were the home to the original Sachertorte.
These claims would then escalate into a long drawn out legal battle between Hotel Sacher and Demel Bakery. After the death of Eduard Sacher and his wife Anna and after the Hotel Sacher went into bankruptcy Eduard's son (also named Eduard) found work at the Demel Bakery and bought the sole distribution rights to the original Sachertorte.
An issue arose when the new owners of Hotel Sacher began to sell the cakes with the trademark "The Original Sachertorte." For years they fought in vigorous legal battles until the two places privately settled in 1963. The Hotel Sacher would get to claim that they were "The Original Sachertorte" while the Demel Bakery got to trademark their cakes as "The Eduard Sachertorte." Regardless on what one's opinions may be concerning who truly has "The Original Sachertorte" both establishments make incredible cakes that are definitely worth checking out while visiting Vienna.
Editorial credit: YMZK-Photo / Shutterstock.com
General Info
Address
Philharmoniker Str. 4, 1010 Wien, Austria
View on Map
The history behind Sachertorte
Philharmoniker Str. 4, 1010 Wien, Austria