The anarchist commune of Freetown Christiania
The anarchist commune of Freetown Christiania in Copenhagen serves as a surprising and intriguing anomaly from the typical makeup of European capitals' city centers.
Founded in 1971, and now approaching it's 50th birthday, the community squatted on an abandoned military zone as an objection to the city's mounting housing crisis.
Histroy
The village developed the following mission statement: "The objective of Christiania is to create a self-governing society whereby each and every individual holds themselves responsible over the wellbeing of the entire community. Our society is to be economically self-sustaining and, as such, our aspiration is to be steadfast in our conviction that psychological and physical destitution can be averted." Christiana attracts half a million tourists per year, and is the fourth most popular destination in Copenhagen, however it remains poorly understood by the outside world due to its association with illegal hash trade.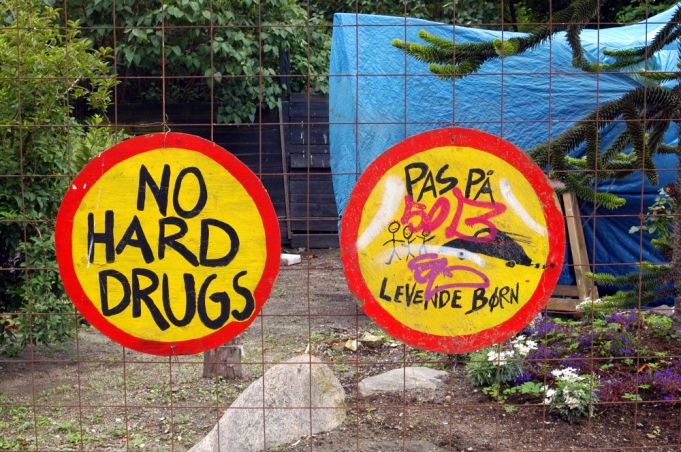 Ph: The Old Major / Shutterstock.com
Christiania's self management is based upon their own developed set of rules, independent of the Danish government, that forbids stealing, violence, guns, knives, bulletproof vests, hard drugs and bikers' colors.
The area is split up into 14 local areas of different sizes, some encompassing 10 residents, the larger including more than 80. Every area has responsibility for decisions made in their close environment. Owning or inheriting private property is shunned by Christianites, which prevents property speculation and landlordism, meaning that land and buildings are the domain of everyone and no one, simultaneously.
The status with the State of Denmark
The nine year negotiation period between Christiana and the state of Denmark concluded in 2013, repealing independent law of the region and imposing Danish federal law. A special offer was proposed, granting the community the opportunity to legally purchase the land, and the Foundation Freetown Christiania was created.
This reflects citizens' opposition to privately owned property, instead opting for a collective lease under a democratic panel. Following this legislation, Christiania promised to develop their own extensive sewerage infrastructure, a comprehensive refuse collection and recycling service, its own childcare facilities, a maintenance team for their own paths and roadways, and much more. Amongst the community's employees (building staff, childcare workers, administrators, rubbish collectors etc.), no worker is paid more than anyone else, avoiding the vast income inequalities, exploitation and hierarchies we see in so-called 'developed' societies.
Christiania Today
Today, the gentle community of Christiania is more renowned for its "Pusher Street," one of the biggest hash markets on the planet. At its height nearly 40 shops ran 24/7, selling 30 to 40 different brands of hashish.
Police have since raided the area and patrol weekly, inciting fear and violence against residents' wishes. Additionally, mass tourism arriving alongside gentrification has resulted in some founding members moving out of the commune after four decades of residency to escape rising prices.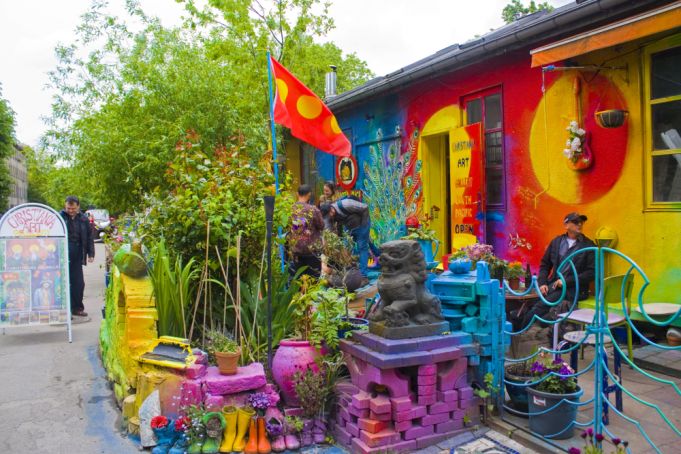 ph: lindasky76 / Shutterstock.com
The Summer of Love utopia is sustained by several thriving bars and restaurants, yet citizens liberal attitudes are discouraged by increasing regulation and violence. Even hippies hate feeling like creatures featured at a zoo, prompting many to reevaluate the do-it yourself ethos that inspired the original settlement. As Emmerik Warburg, a 44-year resident of Christiania, who runs the Christiania Researcher in Residence project said, "The sheer amount of tourism and not wanting to learn but instead only needing to have a different background for your selfie kills the surroundings."
Top ph: Ph:Ikars / Shutterstock.com
General Info
Address
Christiania, Bådsmandsstræde, Copenhagen Municipality, Denmark
View on Map
The anarchist commune of Freetown Christiania
Christiania, Bådsmandsstræde, Copenhagen Municipality, Denmark