German nudist chases laptop-stealing wild boar
Wild boar stole laptop from naked sunbather at Berlin lake.
A dramatic chase involving a nudist bather and a wild boar that stole his laptop near a Berlin lake was captured by a photographer who said the man was more than happy for her to publish the images which have since gone viral.
The unidentified nudist had been sunbathing naked - which is both a popular and legal practice in the German capital - at the Teufelssee in west Berlin, when a wild boar approached.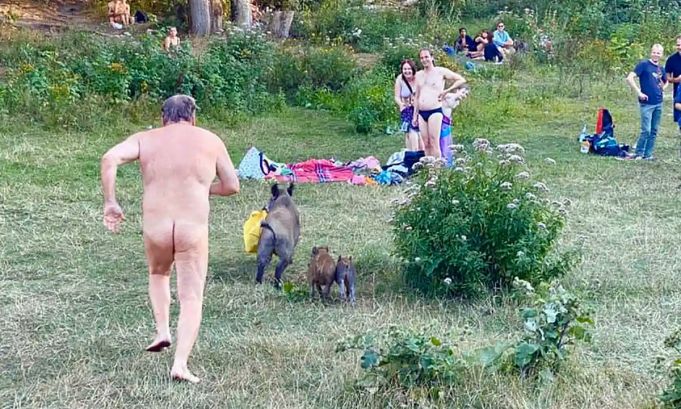 Witnesses said the animal had observed pizza being eaten by bathers and, probably believing the man's bag to contain food, snatched it and ran away.
However the bag contained the man's laptop which led to the hugely unexpected sight of a naked man chasing a computer-stealing wild boar, accompanied by two piglets, into the woods.
The boar's escape was hindered after it stumbled across a cardboard box, with the man clapping his hands and thumping the ground with a stick. The combined effect led the animal to drop the laptop and flee the scene.
When the naked man returned triumphantly from the forest, clutching his prized laptop, he was greeted with loud applause from the bemused onlookers.
Photos Adele Landauer
General Info
Address
Teufelssee, 14055 Berlin, Germany
View on Map
German nudist chases laptop-stealing wild boar
Teufelssee, 14055 Berlin, Germany