Cycling holiday in Denmark: the island of Funen
An hour from Copenhagen, the island of Funen is dotted with villages, fairy-tale castles, hotels and great restaurants.
The Danes call it the "garden of Denmark". The island of Fyn, also known as Funen or Funenia, is an extensive garden sprinkled with castles, ancient villages, harbors, fairytale towns, charming hotels and renowned restaurants. It is a petite paradise an hour and a half from Copenhagen, where the Danes spend their weekends to reconnect with nature and the sea.
The best way to roam this garden island is undoubtedly by bicycle: a new bike path, the recently inaugurated N8 of the Baltic Sea cycle path, allows visitors to discover Funen and the smaller islands that border it to the south. Zero traffic, just open spaces, paths, woods, flowers and the sea often on the horizon.
Also read: Best museums in Copenhagen
Arriving from Copenhagen (one hour and a half by car), disembark on Funen at the capital city Nyborg from the bridge that connects it to Selandia. Funen is the ideal size to be explored by bike without getting tired: from Nyborg, in just a couple of hours you can pedal to the city of Odense, famous for being the birthplace of the most recognized Danish writer of fairy tales, Hans Christian Andersen (The Little Mermaid, The Ugly Duckling, The Princess and the Pea, etc.). In Odense you can visit his birthplace and a museum that immerses you in a magical world of the author's imagination.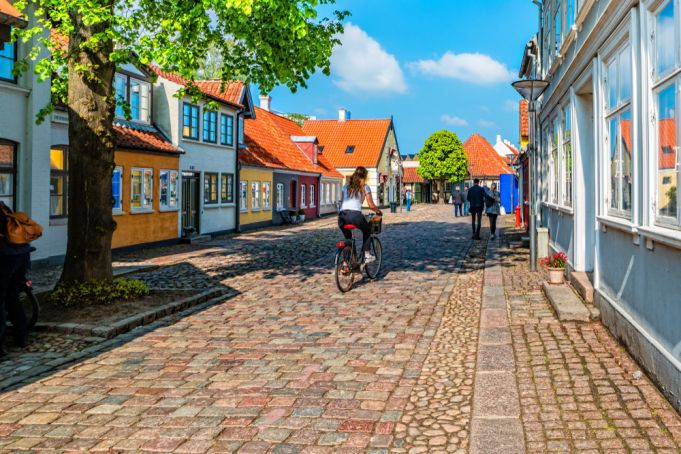 Andersen owes much of his inspiration to this island, its castles and its nature. Following in his footsteps, you can bike to Broholm Castle (about 2 and a half hours), a noble residence where the writer used to go, and which today is a refined hotel with rooms full of history and charm.
An hour's ride from Broholm, it is possible to reach another beautiful town on the island, Svendborg, overlooking a large natural harbor and connected by a bridge to the island of Tåsinge, one of Denmark's favorite destinations for beach vacations. From Svendborg you can embark on a cruise of one or more days to discover the archipelago, consisting of a hundred islands.
Also read: The Faroe Islands in spring
The largest is Ærø, twenty kilometers long and about 5km wide, a land of sailors and fishermen, which boasts the mildest climate in Denmark and a decidedly relaxed atmosphere: here Hygge (the ability of the Danes to enjoy the pleasures of life) might have reached its peak. If, alternatively, you want to see what it's like to share an island with a few dozen people, land on Drejø (65 inhabitants), beloved for its beaches, or Skarø, where 20 people live permanently in a few houses with large thatched roofs.
Also read: Up to date news in Denmark
Once back in Svendborg, continue on the bike path that runs along the Baltic Sea towards Faaborg, a lively town full of stores selling local specialties, from the products of the farms of Funen to the wines of Kimesbjerggård Vingård.
Also read: Shopping in Copenhagen: Where to Go and What to Buy
To sleep, you have a choice of castles, all now transformed into charming hotels: from the fairy-tale Holckenhavn (in Nyborg) to Broholm, Andersen's favorite, to Lykkesholm Slot. The local Danish cuisine is surprising: in spring and summer, a variety of fresh vegetables are combined with cheeses, fish and quality meats for richly flavored and light menus. Check out Kro in Millinge, a restaurant 5km from Faaborg on Funen Island, worth a stop on your bicycle adventure.
Main ph: Nick Brundle / Shutterstock.com
View on Map
Cycling holiday in Denmark: the island of Funen
Funen, Denmark