Heavy snowfall in Athens, Greece means covid vaccinations suspended
The unusual image of a whitewashed Acropolis of Athens delighted Athenians upon awakening. Snow began to fall yesterday, during a cold wave that has affected all of southern Europe, and Greece has dubbed Medea, after the mythological vengeful sorceress. Snowplows are not enough to clear the city streets, and traffic is slow. The main highway connecting Athens to Thessaloniki has been closed to avoid traffic jams.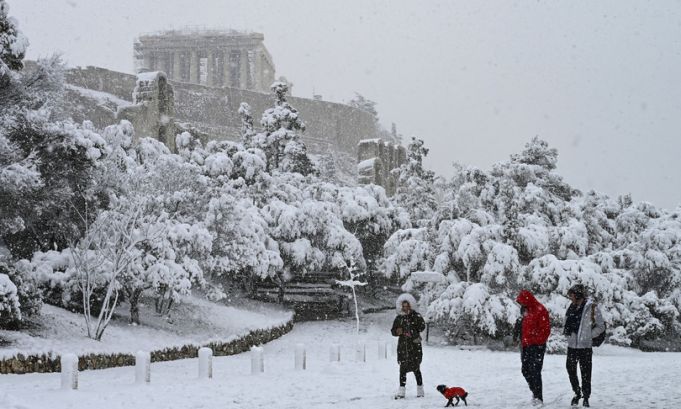 An emergency ministerial meeting led by the Ministry of Citizen Protection is scheduled to "coordinate the management of the situation," reads a Civil Protection statement. Minimum temperatures of -19 degrees Celsius were recorded in the northwest of the country and strong winds, with gusts of more than 100 kilometers per hour, forced ships connecting Athens to the Aegean islands to remain in port.
The heavy snowfall in Athens forced Greek health authorities to suspend the vaccination program in the capital today, CNN reported.
"Due to adverse weather conditions, all vaccinations scheduled for today will be postponed in all vaccination centers in Athens," the Ministry of Health announced, adding, "Citizens who had scheduled their vaccination for today will be informed of the rescheduling of their appointment."
Residents of the Attic Peninsula have been asked to make only essential travel arrangements due to bad weather.